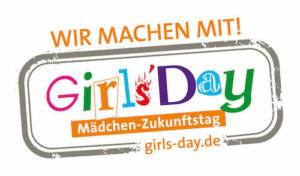 Fast schon eine Tradition, auch in diesem Jahr nimmt das ICG am "Girl´s Day" 2019 teil!
In diesem Jahr findet der "Girl´s Day" am 28.3.2019 statt. Teilnehmen können alle Mädchen ab der fünften Klasse.
Ein Tag speziell für dich, an dem du neue Berufe entdecken und dich und deine Fähigkeiten testen kannst.
Am "Girls'Day" lernst Du Berufe kennen, in denen Männer die meiste Zeit gearbeitet haben – z.B. Informatiker und Forscher. Junge Frauen sind hier sehr gefragt!
Weitere Informationen findest Du hier. Wenn Du Dich registrieren möchtest, sende uns bitte eine E-Mail.
—————————————————
Almost a tradition, the ICG take part in "Girl´s Day" 2019!
This year the "Girl´s Day" will take place on 28.3.2019. All girls from the fifth grade can take part.
A day especially for you, where you can discover new professions and test yourself and your skills.
On "Girls'Day" you'll get to know professions in which men have been working most of the time – e.g. computer scientist and researcher. Young women are in great demand here!
More information can be found here. If you want to register please drop us an e-mail.